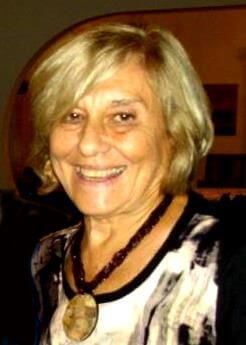 Ana Lara De Caravias
Ana Caravias was born in Buenos Aires, Argentina, as Ana Velia Lara, on
January 1st. 1943.
She attended high school at the
Liceo Nacional de Señoritas N° 11, "Dr.Ricardo Levene,"
graduating as Teacher in 1960. She studied psychology at the National University of Buenos Aires. Received a scholarship to complete studies on "Psychology and Education" at Mount Holyoke College, Massachusetts, USA (1964).

She arrived in Venezuela in 1968 with her husband, moved by the automotive industry, settling in Valencia and forming a family with two children.

It was in Valencia where she decided to start her ceramic studies with professors Mérida Ochoa and Alicia Benamú, in the early 70s.

In 1995 Ana also began to take an interest in the artistic possibilities of fused glass.

Then, she completed her studies in Fire arts (ceramics, glass, enamel on metal), with courses in Valencia (Venezuela), Detroit (USA), Orlando (USA) and Bogotá (Colombia)

Ana was a founding member and Secretary-General for ten years of the Asociación Carabobeña de las Artes del Fuego (ACAF).


Ana is a member of several artistic associations: Venezuelan Association of Artists (AVAP-Carabobo), Vitrum-Research Group (Caracas), Mid-Florida Ceramic Guild, USA.

She received numerous awards, including: Mención del Jurado (1999), Premio Ciudad de Valencia (2000), in Salón Nacional de las Artes del Fuego. Orden Arturo Michelena en su Única Clase, from Alcaldía de Valencia. Peggy Award, XVIII Fall Florida Ceramic Show, USA. Has been a Juror in Salón Nacional de las Artes del Fuego (2004), and in Eureka Universia (2003).


Her works are in collections at the University of Carabobo, Universidad José Antonio Páez, Mayor of Valencia, Museum of Sarreguemines (France), Museum of Contemporary Art (Santo Domingo, Dominican Republic), Ceramic Mosaic Museum, (Prov.de BuenosAires , Argentina), Museum of Ceramics (Cuenca, Ecuador), and in private collections in different countries. He has participated in numerous group and solo exhibitions.